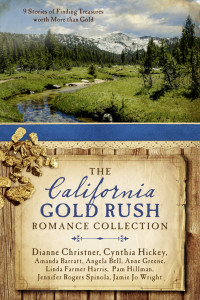 So excited that The California Gold Rush Romance Collection releases TODAY! 🙂
Rush to California after the 1848 gold discovery alongside thousands of hopeful men and women. Meet news reporters, English gentry, miners, morticians, marriage brokers, bankers, fugitives, preachers, imposters, trail guides, map makers, cooks, missionaries, town builders, soiled doves, and more people who take advantage of the opportunities to make their fortunes in places where the population swelled overnight. But can faith and romance transform lives where gold is king?
My novella is Love Is a Puzzle. Shanyn Duvall's cartographer father is missing; his maps and his hand carved jigsaw puzzles the only clues left behind. Nick Johnston guides the group of mapmakers into mining territory, but isn't keen on having women on the dangerous trek. When Shanyn needs to follow her clues deeper into the mountains, will Nick help?
I had a ball "puzzling" out Nick and Shanyn's story for this collection. Enjoy the puzzle below and pick up a copy of The California Gold Rush Romance Collection today!
<iframe src="//www.jigsawplanet.com/?rc=play&amp;pid=0cc3bd882935&amp;view=iframe" style="width:100%;height:600px" frameborder=0 allowfullscreen></iframe>