Whether you've landed on my website by accident or by design, I hope you enjoy your visit. I write Christian Historical fiction, and I love connecting with readers.
Feel free to check out my Books page, like my Facebook page, sign up for my newsletter, or leave a comment on my blog.
And…don't forget to sign up for the Kindle Fire Giveaway! Just click on the badge below to register.
Thank you for visiting, and please come again.
Pam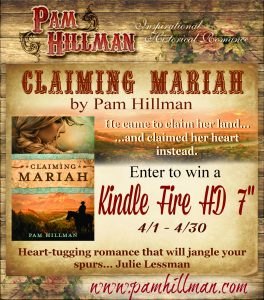 Sign up for my newsletter (subscription form in the sidebar to the left) and receive the 2013 Winter Edition Seeker Sampler. Short stories, poems, and excerpts from yours truly and some of my dearest friends, The Seekers. Enjoy!