Whether you've landed on my website by accident or by design, I hope you enjoy your visit. I write Christian Historical fiction, and I love connecting with readers.
I'm excited to share my latest book, The Promise of Breeze Hill, which released August 2017.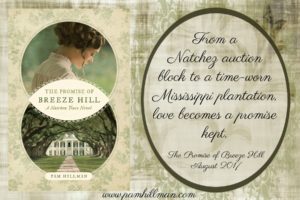 In the coming months, I'll have some fun and exciting things to share about the story, the characters, and some up-close-and-personal research, so don't miss out. Follow me on social media (buttons to your bottom left) and sign up for my newsletter.
It's gonna be fun! 🙂
Pam
SaveSave
SaveSave